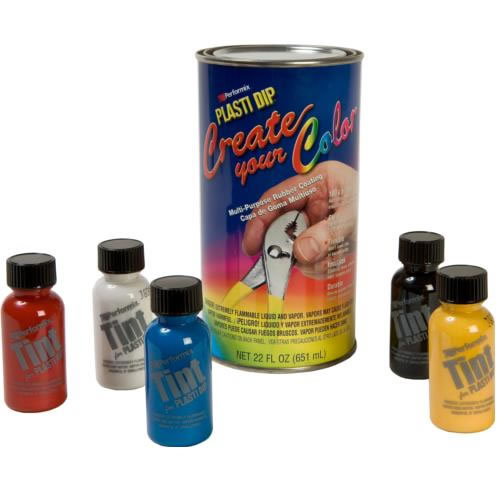 Create Your Colour
Plastidip 'Create Your Colour' contains the standard clear formula complete with five specially formulated tints which provides everything you need to create any colour you desire for all your projects.
'Create Your Colour' is a synthetic, flexible rubber coating which exhibits excellent moisture, acid, alkaline and abrasion resistance and is ideal for interior and exterior applications. Water tight and permanent.
'Create Your Colour' can be dipped, brushed or sprayed using our recommended Thinners and one of our handy spray units.
The new 651ml can is re-sealable maximising the shelf life and has a depth of 6in, for dipping larger objects.
The features of ?Create Your Colour? provide a multitude of benefits including:
Custom colours for dip, brush or spray applications.
Wider opening for larger projects and use with a 2in brush.
Ease of mixing tints or added textures
Much improved shelf life
For permanent coatings, surfaces such as metals should be primed using our recommended primer, which is available in grey and clear.