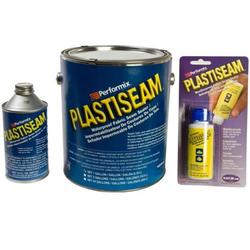 Plastiseam
Plastiseam is a weatherproof seam sealer!
Plastiseam is a flexible sealant, designed to weatherproof seams in outdoor equipment.
It is easy to apply, and dries really quickly.
Excellent for sealing out moisture caused by pin holes in sewn seams, in most fabrics.
Waterproofs seams on camping gear, awnings, sails, backpacks, rain suits and a lot more.
Seals out wind and dirt.
Will not become brittle.
Plastiseam formula is great on all nylon and synthetic fabric seams.
You are bound to find hundreds of uses for this unique product!
Plastiseam is second to none in performance and will last far longer than any other seam sealer on the market.