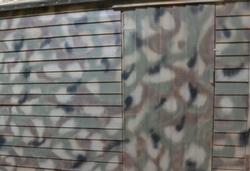 Don't let your shed wither away at the end of the garden – it can be a feature in itself.
Look at what one customer has done with theirs…
Amanda says; "I needed storage, but the thought of sitting and looking at a brown wooden shed wasn't appealing to me, I wanted it to fit with the surroundings. I heard about Plasti Dip from someone I work with, so did a bit of research myself on the Plasti Dip website and bought some aerosol cans in the Camo colours. One sunny day I felt inspired, so decided to crack on with spraying my shed (my first Plasti Dip project)."
Here is how Amanda achieved this effect…
She applied a solid base colour of
to the two sides of the shed that would be seen. It only took one coat to create a solid base colour (two aerosol cans) and about half an hour to complete.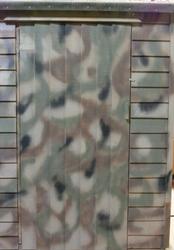 Next Amanda used the
Camo brown and Camo Khaki aerosol cans
and built up the design. She found it best to hold the spray can approximately 20cm (8 inches) from the shed, sometimes closer to create detail. Be careful not to over-spray each area though, otherwise the paint can run. It took some amount of creative flare to establish the required effect/pattern.
Amanda started with the Khaki and stood back to view the entire area at intervals so that she could identify where she needed to infill with more pattern. Soon getting into the swing of it, she didn't wait for it to dry before commencing with the brown Plasti Dip.
Finally the black aerosol was used to complete the pattern. Amanda says…"ensure that you do not cover too much of the design with the black otherwise it will be dominated by the dark colour and appear blobby rather than looking like Camo".
*Tip: Amanda recommends testing your design out on a piece of card or an area of the shed that won't be seen before you embark on the real thing. This will enable you to get a feel for the technique and develop the density of effect that you want to achieve.
In total 2 aerosol cans of tan, 3 cans of Khaki, 3 of brown and one of black were used to cover the two sides of her shed.
So within a weekend Amanda's shed was transformed from a bog standard brown building into the unique piece of art that you see before you. She had a BBQ to mark the occasion and her new-look shed was a great talking point during her get-together with family and friends.
If Camo isn't quite your thing then why not design your own?
Perhaps a Mediterranean or Moroccan feel or even a Beach Hut style could work for you? Your shed or summer house can be the focal point of your garden or elegantly blend in with the surroundings. You can then add finishing touches such as outdoor lights, lanterns, plant pots or a name plaque to complete the look. Here is some inspiration to get your creative ideas flowing…

Customers summerhouse design…a carefully selected colour and nice finishing touches is all you need to create a lovely retreat in your own garden.



Not only will it look good, but Plasti Dip protects your shed from the elements too! Plasti Dip seals the wood and contracts/expands with it, so won't crack and will prolong the life of your beloved garden shed or summer house.
There is still time to get Plasti Dipping outside before the sunshine disappears for another year (hopefully…maybe not judging by the current weather forecast). How nice to have the garden looking its best…allowing you to sit back and relax with a refreshing Pimms or a nice cold lager to admire your handy work (being optimistic and hoping the sunshine reappears during September).
Don't forget to send us your before and after photos to sales@plastidip.co.uk or to our Facebook page. We love to see what you have been doing with Plasti Dip.