We often get questions about our range of enhancers and how to use them, so in this post, we'll explain what they are and how they are applied. As you will probably know, regular Plasti Dip has a matt finish once dry, but you can apply a transparent topcoat, known as an enhancer, which changes the finish but retains the original colour beneath.
Plasti Dip enhancers are designed to give any Plasti Dipped item a unique look and are available as a liquid, sprayable or aerosol.
View this post on Instagram
To use them, you first choose the colour you want your finished object to be and purchase regular Plasti Dip in that shade, then in addition to that, you need to purchase an enhancer as a topcoat.
You can choose between Glossifier, Sanitizer (semi-gloss satin)  Pearlizer (pearlescent sheen) or Metalizer (metallic finish) The enhancers are colourless so need to be applied on a  base coat.
With all our enhancers how you apply them can make all the difference between getting an amazing finish and one that is just so-so. The process to get a great gloss finish begins before you even open the can of Glossifier as it's important to achieve a smooth level base coat.
This excellent video from our friends at Dip Your Car shows how you can get a high gloss finish with Glossifier and also how applying the base coat haphazardly will leave you with less shine. The same applies if you are using Metalizer, Pearlizer or Satinizer.
NEW PLASTI DIP GLOSSY LAUNCHES
Fans of gloss black finish will be pleased to know that its popularity is such that we've introduced a new pre-mixed Black Gloss Plasti Dip aerosol which will allow you to get the gloss finish on objects using only one product.  Just click on the image below to go to the product page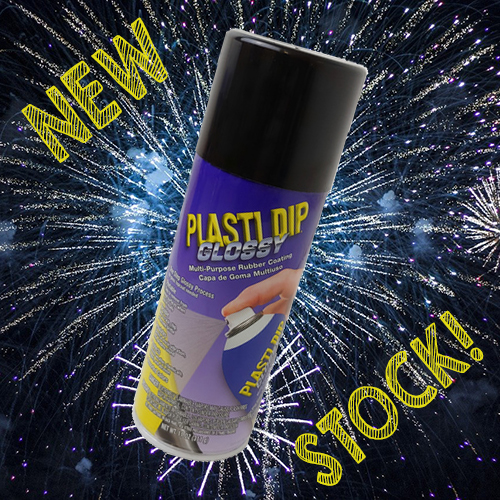 With all Plasti Dip projects, preparation and understanding application techniques is key to a good finish. If you are new to Plasti Dip head to www.plastidip.co.uk/start to find all our resources and guides.